Boston University
Art Education
2020 MA Thesis
Biz White
In my practicum placements, I was so lucky to be able to work with talented and amazing teachers Elizabeth Brennan and Rachel Rizzo. The student work showcased here is an overview of my time in two practicum internships.

In September 2019, I began my elementary practicum at The Eliot Innovation K-8 School in the North End neighborhood of Boston. I worked with their K-8 art teacher Rachel Rizzo teaching students from pre-kindergarten to eighth grade. Rachel's curriculum includes a variety of media and techniques scaffolded to each grade level. We separately taught and co-taught her classes throughout the semester using her own lessons, new lessons we built together, and explorations from my own lessons.

In January 2020, my practicum placement was with Elizabeth Brennan at Brookline High School. Elizabeth Brennan is the primary metalsmithing and printmaking teacher in the school. She also teaches drawing and painting, and a mixed media 'Art Studio' course. Elizabeth teaches students from ninth to twelfth grade and is also an advisor to a group of about twenty eleventh graders.

In my practicum at Brookline High School, I learned from Elizabeth how to work with all the materials and techniques that she uses in her curriculum. At times, I co-taught or led her projects, but also got a chance to teach my own lessons. Unfortunately, my time at Brookline High School was cut short and some of these lessons did not get completed, but I am very lucky to have taught in a school that offers such diverse artistic experiences.


Brookline High School

Brookline, MA
Grades 9-12
Supervising Practitioner: Elizabeth Brennan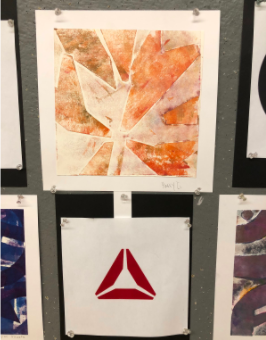 I believe that the art classroom is a community of diverse individuals working together for a common cause: the creation of art. It is important that all the individuals in the community feel heard, supported, and cared about. I bring that into my teaching in all classrooms. I bring empathy to the classroom as a teacher. I try to relate to all of my students and attempt to adapt and accommodate them in order to support their learning. With this in mind, it is also vital that I take on multiple approaches to teaching, knowing that students learn in different ways. In a diverse classroom environment, it is important to recognize there is no one singular way to teach all kids.

I have taught art to a variety of age groups in a variety of settings and this experience has allowed me to help a diverse range of students express themselves through a variety of materials. I currently teach students that are immigrants, that are multilingual, nonverbal, on the spectrum, wealthy, on welfare, and students with a whole array of cognitive and behavioral needs. The school mimics a small society, as it is host to a diverse group of individuals that build a community of learning and self-discovery.

I generally use a self-portrait lesson as a tool for students to introduce themselves to one another. The self-portraiture projects can make use of a multitude of materials and result in a variety of outcomes depending on grade level, student interests, and needs. The outcome of this kind of the self portrait project allows students to express themselves as individuals. I aim to celebrate students' differences and points of connection in all my lessons.

The self-portraits set the groundwork for a safe environment for expressive and curious young artists. Additionally, I use both choice-based education and more structured lessons in my teaching practice. I teach art lessons that are two dimensional, sculptural and sometimes a combination of the two. I use visual thinking strategies to introduce lessons and concepts to my students, and I integrate art history into studio lessons to provide them with a knowledge of the traditions that support their process. Students benefit from lessons that allow room for adaptation and creativity, while also cultivating art skill sets and the knowledge of important artists. My teaching philosophy boils down to the understanding that all students can learn something through visual arts and that all students have the capability to express themselves artistically.



Eliot Innovation K-8 School

Boston, MA
Grades K-8
Supervising Practitioner: Biz White